DRAG·SI·CAL™
(DRAG-ZI-KUHL) :
NOUN: DRAGSICAL™; PLURAL NOUN: DRAGSICALS™
Definition:
1. A FEATURE LENGTH AUDIO COLLAGE, IN HOMAGE TO A TOPICAL GENRE, PERFORMED BY LIP-SYNCING DRAG STARS IN THE STYLE OF MUSICAL THEATER. 2. Derived from DRAG+MU-SI-CAL.
OFFICIAL DRAGSICAL™ PLAYERS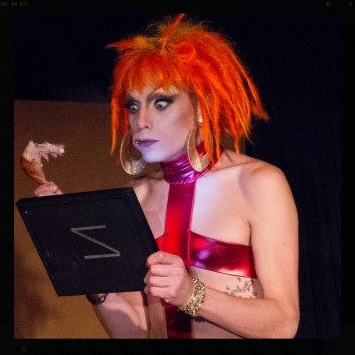 (BY SENIORITY) RIGHT to LEFT: [ SUPPOSITORI SPELLING, TRIXXIE CARR, RAYA LIGHT, CHASTITY BELLE, GLAMAMORE, MISS RAHNI, GUIDO CANDITO, and QWEEN. ]
WE ARE A PRODUCTION TEAM OF ARTISTS AND PERFORMERS SPECIALIZING IN NEW MEDIA ENTERTAINMENT. OUR FIRST PRODUCTION, HEATHERS: THE DRAGSICAL™, PREMIERED AT THE STUD BAR FOR PINK SLIP ON JUNE 16TH, 2009. WE'VE PRODUCED IN THE OUPUT PATTERN OF 2 ORIGINAL PRODUCTIONS FOLLOWED BY 1 COMMUNITY COLLABORATION SINCE THEN, AND OUR TEAM HAS GROWN TO INCLUDE SOME OF THE BEST TALENT AVAILABLE IN SAN FRANCISCO. TO VIEW THE COMPREHENSIVE LIST OF TEAM MEMBERS, CLICK HERE. OUR NEXT PRODUCTION IS EX-MEN: THE DRAGSICAL™. FOR MORE ABOUT THAT, GO TO OUR BLOG.
BEHIND THE SCENES PHOTOS:
ADVERTISING:
Our programs are very artfully put together by the talented artist Diego Gomez. The programs are tri-fold 11"X17" with lots of room to integrate your brand. Below is an example of his work for Swan Queen. If you would like to advertise with our next production, contact tranimated@gmail.com.